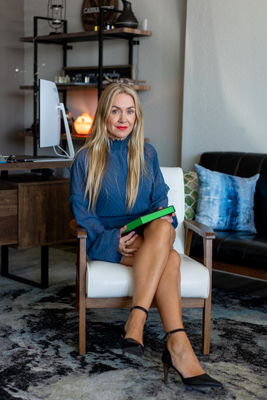 Interview with Ester Vigil, President of 1933 Industries
Ms. Ester Vigil serves as 1933 Industries' President. We had the opportunity to sit down with Ester to discuss her background, her interests in health and wellness and her desire to help others. She is the growth driver for 1933 Industries' portfolio of brands and has executive oversight of the supply chain, focusing on sales growth, product development, national distribution, and product education. Ester embodies the Company's culture of enhancing, connecting and supporting people to live better lives and exemplifies the Company's philosophies and love for the healing benefits of the cannabis plant.
How does your background in cosmetics translate into the cannabis sector?
I worked in the cosmetics industry for over 17 years as an independent contractor for a variety of brands. As an account manager, my main focus was not only to sell and promote brands but to educate the consumer about the products. It was over these years that I became increasingly interested in wellness and in the health aspects of the products I was promoting. This interest, coupled with some deep, personal experiences, drove my passion to find products that aid and enhance a healthy lifestyle. Fortunately, I have been able to apply the lessons I learned during my tenure in cosmetics to cannabis, where we are just beginning to understand the medicinal power of the plant. I have also applied my experience in sales and education to this industry, where we battle misconceptions and stigma on a daily basis.
Can you discuss your sales strategies?
In my previous career, I was responsible for selling brands and implementing educational programs to ensure that the product was represented and sold properly. I serviced every single major cosmetic brand in the U.S. such as Lancôme, Urban Decay, MAC Cosmetics, Tata Harper, and Dr. Dennis Gross and managed their accounts in large retailers, such as Sephora, ULTA, Saks Fifth Avenue, Nordstrom, and Macy's. I worked for Peter Thomas Roth for 12 years. I led some of the top brands in the market in the top volume territories—and I was rated top 5 in the U.S. for 12 consecutive years. In addition to sales, I managed special events, freelancers, and conducted product training programs for employees, while working as a Real Estate Agent as well!
I believe my success was a result of the strategies I implemented: building a great team, building relationships with clients, building trust in the products, and educating the consumer. Throw in some good ol' fashioned work ethic and you have a winning combination.
I have been applying these sales strategies at 1933 Industries since the beginning, which I feel has been a key to our success. We conduct market research and listen to our clients' needs and feedback. We use this information to develop products that consumers want—safe, natural, effective—utilizing a plant that we have benefited from over thousands of years. We also focus heavily on educating consumers about our products. It's a must. We started with a few thousand dollars in sales two years ago, and we now sell an average of $750K per month!
What attracted you to 1933 Industries?
I started working for the Canna Hemp™ subsidiary of the Company, creating sales strategies, building our distribution channels from scratch and training our sales staff. Building a company from the ground floor was an exciting and unique opportunity, and I was up for the challenge. On a personal level, ten years before ago, I experienced the loss of my mother-in-law to cancer and this was a catalyst for my journey and passion for natural healing. I had begun studying holistic treatments after her diagnosis. I met a holistic doctor then who became one of my mentors and opened my mind to alternative therapies and medicine. I have spent years researching and educating myself regarding natural products and ingredients and I have come to discover what works for me (diet and exercise and paying close attention to ingredients) and what doesn't. And I continue to search for answers.
When I met Chris Rebentisch (1933 Industries CEO and developer of Canna Hemp™) and was introduced to the benefits of cannabis and the opportunity that it represents, the universe answered my calling. We are not just selling CBD or THC; we are doing something much bigger than that. I have met with patients who have spoken to me about their experiences, and have told me that our products speak for themselves. We are a consumer goods-focused company, producing products based on what customers want and need. And we believe that we are filling a gap in the market.
How are you positioning the brand and how do you plan to grow it?
My motto is that "quality and consistency prevail." When you are putting a brand out into the market, quality is key. We are vertically integrated so that we control every ingredient that goes into our products. The most common questions we get from customers are "what are the ingredients and where do they come from?" I want to connect people with the brand and the way to do this is through education. We are a values-driven company using the highest quality ingredients in the market and we are committed to complete transparency. Consumers can click on the QR code listed on each product to see lab results, which are triple tested to ensure that our CBD-infused products are THC-free. We are also working towards producing our own CBD.
We have a strong focus on customer service and we work with retailers that have synergies in this area. We educate online, in dispensaries and in high-end CBD stores. We are building sales teams in different states and our products are moving by word of mouth. We are working with a fantastic marketing group who are successful branders and businesspeople. In a nutshell, I am extremely excited for our future.
Do you use Canna Hemp™ products?
Absolutely! As a mom of four children ranging in ages from 7 to 28 and as a grandmother to a 3 year-old, I use our products on a daily basis to help maintain a balance. I am committed to fitness and wellness in every aspect of my life—I live and breathe it, body and soul.
I absolutely love all the Canna Hemp™ CBD products that we carry and use an array of them every day. The body lotion is easily absorbed into the bloodstream when rubbed into my skin, leaving me feeling soft and moisturized. I use our lip balms, which are free of any chemicals. I also use Focus and Euphoria elixirs to provide me with energy through the day. Finally, I use the Canna Fused 1:1 relief cream before going to bed, which helps me sleep.