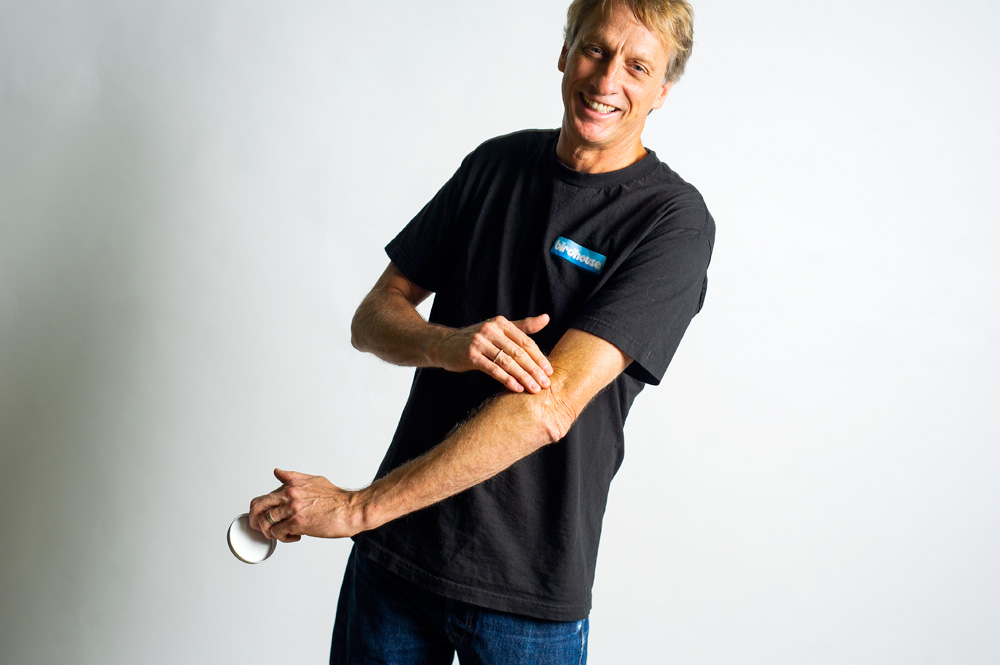 In the athletic world, there are names that become synonymous with the sport—athletes that perform so well so often that they are the first that come to mind. Golf has Tiger Woods, the Williams sisters are tennis legends, gymnastics just named two moves after Simone Biles and you can't talk about competitive swimming without mentioning Michael Phelps.
And even if you know nothing about skateboarding, there's a very good chance that you know who Tony Hawk is. That's not only due to the dozens of championships he has accumulated throughout his impressive 37-year career, as the legendary skater's influence isn't solely rooted in his trophies that could fill a football field. It's because since Hawk started skateboarding, he has routinely changed the game, helping the sport to evolve—and inch its way into the mainstream.
A Storied Career
Now considered a pioneer of modern vertical skateboarding, Hawk first started perfecting moves as a pre-teen in his hometown of sunny San Diego. Talent and commitment to the craft had him competing at age 12, turning pro at 14 and becoming globally recognized before his peers had driver's licenses at only 16 years old. This all happened during the initial heyday of the sport, as skateboarding experienced a surge in popularity throughout the mid- and late-1980s.
When skateboarding's traction soon skidded to a stop in the early 1990s, Hawk remained steadfast in his passion for the sport. It was then that he decided to launch a skateboard company called Birdhouse Projects, which fast became one of the sport's most noticeable brands. And when skateboarding made its comeback in 1999, Hawk doubled down on his investment in what he loves to do by launching the PlayStation video game Tony Hawk's Pro Skater.
That video game soon spawned an additional 18 titles across multiple platforms, making it one of the most successful franchises in video-game history. Hawk was already influencing people to pick up a board and hit the half-pipe, but now he was bringing the world of skateboarding to living rooms all around the globe. This massive success not only made him a household name, it made skateboarding accessible to the masses.
It was around the same time as Pro Skater's peak that Hawk completed the first documented "900" maneuver, which involves a 2.5 revolution aerial spin performed on a ramp, during the X Games in June 1999. This wasn't the first impressive move Hawk pioneered, as his extensive career is full of such firsts, but it was likely the most impressive. Such artistry is further testament to Hawk's influence on the sport, as he literally became a standard of excellence by performing maneuvers before thought impossible.
And Hawk's influence doesn't end on the ramp or game console. The skater parlayed his popularity into the mainstream media, appearing in a number of film and television projects seen by millions of soon-to-be skateboarding enthusiasts. Memorable titles include blockbuster films like xXx and The New Guy, popular TV shows such as What I Like About You and The Suite Life of Zack & Cody and even music videos for Simple Plan and, yes, Weird Al Yankovic.
Skateboarding's New Stage: The Olympics
Hawk's influence on skateboarding has certainly been a driving factor in bringing the sport, formerly thought of as "underground," to the mainstream. In July of next year, skateboarding will be featured on its biggest stage yet: the Toyko 2020 Olympics—a feat that, no doubt, might not have happened without Hawk and everything he has done to promote the sport he has devoted his life's work to. But don't think the Summer Games are doing skateboarding a favor—Hawk cleared that up late last year.
"Skateboarding has come far enough that I feel the Olympics needs skateboarding's cool factor more than we need their validation," the skateboarding icon said at the Aspen Institute's Project Play Summit in October 2018.
Skateboarding will join four other sports (karate, sport climbing, surfing and baseball/softball) as new events to augment the standard Olympic sports at the upcoming games. And though it isn't a permanent change, the International Olympic Committee has provisionally approved the event for the Paris 2024 games.
The sport will be featured in four separate events—men's park skateboarding, men's street skateboarding, women's park skateboarding, and women's street skateboarding—each with 20 competitors, meaning 80 spots are available for hopeful skaters around the planet.
A Product Made With Skateboarders In Mind
Tony Hawk's impact on skateboarding continues today, through his work with the Tony Hawk Foundation (which builds skate parks in underprivileged communities), his entertaining social media presence (where you can still catch him landing impressive moves on the ramp) and with his Birdhouse brand, which recently launched a collaboration with national CBD brand Canna Hemp X™.
As of November 4, the Birdhouse CBD Balm by Canna Hemp X™ is available for sale in dispensaries, wellness stores, skate shops and specialty retailers—including numerous Zumiez stores in the United States. The product was developed by Birdhouse Skateboards™ and Canna Hemp X™ to target the action sports market, providing athletes a CBD balm with fast results for use before, during and after exercise.
The Birdhouse CBD Balm is nanoparticulated CBD for maximum bioavailability (meaning total transdermal absorption and effects), a blend of essential oils and other natural ingredients. The product is THC-free, non-greasy and lightweight—perfect for the athlete on-the-move.