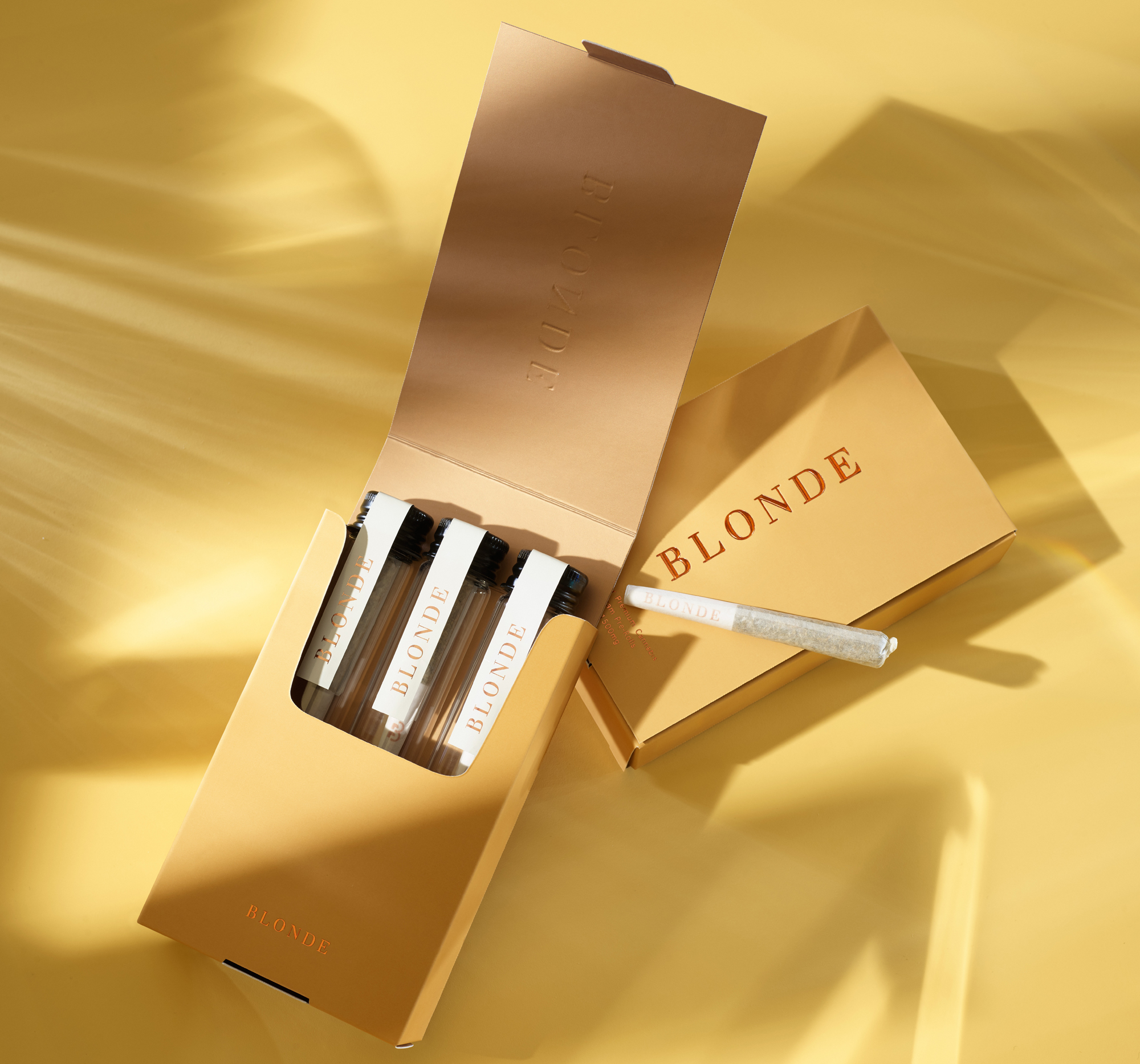 Blonde™'s Tim Gavin discusses 1933 Industries partnership, the growth of the cannabis industry and more
This week 1933 Industries announced its latest partnership, a licensing agreement with the California-based, high-end cannabis brand Blonde™. 1933 Industries will cultivate flower for the luxury cannabis line, as well as manufacture its pre-rolls and live resin vape pens and cartridges—all of which will soon be available at dispensaries throughout the state of Nevada.
1933 Industries sat down with Blonde™ co-founder Tim Gavin to discuss the deal, his past as a professional skateboarder, and the future of the cannabis industry. Read on to acquaint yourself with Gavin and his top-notch cannabis brand.
Tell us about your background. You first had a career as a professional skateboarder, correct?
I moved around a lot when I was a kid. My dad was in the military. I was born in Boise, Idaho, moved to Germany when I was one, lived in Miami when I was three and then moved to Phoenix when I was seven. That's when I was introduced to skateboarding by kids in the neighborhood, and I fell in love with it. I quickly became super passionate, about not only skateboarding but that this is what I wanted to do. I'm very fortunate that skateboarding was able to give me that direction and those goals early. I see a lot of people around me that, still, in their late teens to early 20s, still don't know what they want to do or what they're passionate about.
I moved out on my own to Los Angeles when I was 15, kind of left school and moved out that way knowing that I wanted to become a professional skateboarder. So, from the early days, at 15 years old, I've pretty much been self-made and I've been very fortunate. I turned professional when I was 17.
You also have made a living as a retail executive. How did skateboarding turn into a successful career in branding and marketing?
I was a professional skateboarder for many years. My first sponsor was Blind Skateboards and the owner, Steve Rocco, was a mentor of mine at such an early age—I was probably 17 or 18 years old. He was the one who inspired me and made me think in a certain way, regarding business, just by watching him do what he did.
I started my first business, DVS Shoe Company, in 1995, and my first venture with DVS was to establish the marketing campaign. What I did was pretty much an easy thing, which was to associate all my friends with the brand as endorsed athletes—and my friends, at the time, were some of the best skateboarders in the world. It was trial and error with the product, because I never knew how to make footwear. But the marketing, and the names behind it, really allowed us to get through those learning curves to where we could have an established business and a better product.
In 1998, I started my first clothing company, called Matix Clothing, and what I learned from Steve Rocco was a multi-brand strategy and having a multi distribution level approach to the business. So, again, not knowing how to create clothing, I'm not a clothing designer, I associated my friends with the brand. Again, it enabled us to get down the road, [and after] trial and error, we, years later, got better at making clothing.
I started my third brand, Lakai Footwear in 1999. The idea behind Lakai was to use the DVS distribution model. We sold to a broader chain of stores, opened up the marketing to other sports beyond skateboarding, and established Lakai as a core skateboard footwear brand. So, that was my upbringing in marketing. … We were fortunate enough to grow the business to about $120 million in global sales, and we ended up selling the brands in 2012. After selling my brands, I got into flipping and reconstructing homes and became super passionate about the creativeness behind all of that. And I still do it today.
Anything that I do, I don't know if it's a Virgo trait or not, but coming from nothing, being self-made from the age of 15, I was always very desperate. Because you're either motivated by inspiration or desperation, right? I knew I had nothing. There's no falling back on an education or anything else. So, for me, I always feel like I have to be the best at whatever I do.
You've now turned to creating a cannabis brand, Blonde™. How did that come about?
Blonde™ came about from a very authentic space. Me and my friend Jeron Wilson, who I've known for over 25 years, we've been investing into cannabis ventures for many years, and they were very unsuccessful. And one day, I told Jeron, "Look, why are we investing into someone else's hope and dream, when we are entrepreneurs and brand builders ourselves? Let's do our own brand."
We focused on finding the right partner and not trying to launch in our own backyard of California. We met with a handful of people, from all walks of life. And we met with the group at 1933 Industries and, from the moment we met them—from the top down, the culture, the people, the organization—we knew that they were the right fit. So that's kind of how Blonde came about. And then, a dear friend of mine who I've known forever, Chris Keeffe, who is also a co-founder and oversees the creative direction, came on board. We were very inspired, collectively, to do something different in the cannabis space, as we saw a lack in the market.
Who are your partners at Blonde™?
Jeron was somebody, I believe he was about 14 years old, that I saw at a skateboard contest. And I brought him under my wing literally that night. He stayed with us and the next day I kind of threw him on a sponsorship and I've been kind of fathering him professionally and figuratively from that moment on. I, of course, put him on my own brands, DVS and Matix. So, I've known Jeron for 25 years and he's somebody that I literally consider a family friend.
Chris Keeffe is somebody who I used to do business with. He owned a boutique destination footwear store in New York City called Dave's Quality Meats, which eventually became DQM, and I used to sell my own brands through his retail store. Chris was a professional skateboarder back in the day as well, so we've known each other for a very long time. … I shared with him what we were doing, he got very inspired, and next thing you know, me, Jeron and Chris are all doing this together. So, it was a very organic, authentic connection between all of us and from the inception it felt right. Whenever I do a brand that feels right, I know it's going to be very successful.
What is the story behind Blonde™?
We wanted to create something that represented us as individuals. We weren't doing this because we were chasing anything in particular. We, honestly, wanted to create a brand that we felt we could go and purchase at a retail store. We are all fans of the cannabis space. We are very inspired by the opportunities and, mainly, the wellness and a better way of living, that cannabis can provide. That is something that we want to educate our consumer about.
We really wanted to establish a brand that we felt was missing, because we would go to a retail outlet and not connect with any existing brands. So, we felt that there was an opportunity for [a group] like us to establish something that not only would we connect with, but our extended friends and family would be able to connect with, as well.
What is Blonde™'s differentiator in such a competitive market?
What differentiates us is simply the pedigree of the co-founders: myself, Jeron and Chris. Our backgrounds and our story, that's really what's going to make this brand different than the rest, because there is no other Tim Gavin, Jeron Wilson and Chris Keeffe collectively partnered in a current brand. So, we feel that the collective between us three will really differentiate us from the rest. And that differentiation comes from our mindset, our thought process, our ideas, and our creativity.
How does one go about launching a successful cannabis brand from the ground up?
You do it predicated on the right reasons. And we are launching this brand, we feel, for the right reason. And that reason is because we want to establish a brand that we can connect with.
You chose to collaborate on Blonde™ with 1933 Industries. Why was 1933 Industries the ideal partner?
It was undoubtably noticeable, from the beginning, that 1933 Industries's infrastructure, the professionalism, the organization, and the established business that was already in-place, was the difference maker. And then you also couple that with the people who are involved. The CEO, Chris Rebentisch, not only is his background and story is very inspiring, but everybody else involved with 1933 Industries and the culture was very inspiring and motivating, as well. We are dealing with like-minded, professional people who want to do things right, who also have a focus on what we feel is the most important component to any business, and that is product. Because we feel that product prevails in any market.
How do you see the cannabis industry growing?
I think it's education and removing the stigma from the entire category of cannabis. … If used responsibly, cannabis can definitely serve significant health benefits and a more valuable lifestyle that is conducive to long-term healthy living. I think what's going to evolve in this space, is continuing the educational process to remove the stigma from the cannabis name.
What are Blonde™'s major catalysts and hurdles for growth?
I think, right now, it's the inevitable of cannabis still being a state-by-state business. I come from a more traditional business background, where there is a simpler way to do business, or a more traditional way to do business. However, I love the creativity that you need in this business in order to not only establish a business but to grow the business. What we are looking to do is become a provider in most states. We also want to be vertically integrated down the road.