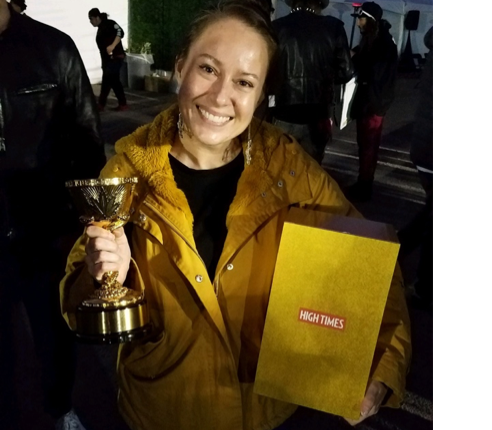 – An interview with 1933 Industries' heads of cultivation
Ryan and Jennie George know how to cultivate craft cannabis and have well over a decade of experience developing their techniques for growing. Focusing on the details typically overlooked by large scale commercial grows, they have been perfecting their skills since 2008. As state licensed medical cultivators, they established a small grow in their home state of Arizona, eventually building a 5,000 sq. ft. operation. "We spent several years learning the complexities of cultivating craft cannabis," said Ryan. "We strongly believed that cannabis would become the next boom industry."
The husband and wife team learned a lot from other growers as they travelled around the world, discussing various grow methods while building their own operation. They created their own products and moved to Las Vegas two years ago. In December 2019, their hard work culminated with a win at the High Times Cannabis Cup Nevada, when the Fiore flower brand they helped to develop won 1st Place for Hybrid flower.
Both Ryan and Jennie previously worked for a publicly-traded cannabis company in Las Vegas, but were attracted to 1933 Industries' cultivation arm, Alternative Medicine Association (AMA), because of its emphasis on craft cannabis.
"Cultivating craft cannabis is our expertise and building a new grow, essentially from scratch was a challenge we were excited to take on", commented Jennie, Assistant Director of Cultivation at AMA. "We have proven skills in finding ingenious ways to solve problems and bring new methodologies and techniques to the table".
What is craft cannabis? Many master growers boast resumes that look good on paper but are lacking on hands on experience. "Cannabis cultivators in general are riddled with people who are learning on the job. We have 12 years of trial and failure behind us and can now apply what works and what doesn't work to our cultivation at AMA. We have spent a third of our lives working with the plant," remarked Jennie. "Cannabis is far from easy to grow as it requires extra focus and care. Planning is extremely important as the steps that are taken today will reflect in your harvest months later. Having good genetics is key as your end product will only be as good as your stock."
The same methodology has been implemented at AMA. Maintaining a craft style grow permeates the entire operation, from the cultivation and harvest to hand trimming and packaging. "You have to do things right at every step of the way to maintain consistency and a premium end-product. Better plants result in better concentrates. It all comes down to your input material", said Ryan, Director of Cultivation at AMA.
Ryan and Jennie were brought into AMA to grow the best cannabis in Las Vegas. In this regard, they will be focusing on the quality of the flower where profit margins are higher vs. the size of the operation. "We are committing to 4 crops per year with continuous harvest to ensure the supply of product for our dispensary clients. The key is to be prepared, to have the foresight 3-4 months ahead and to keep on schedule", said Ryan.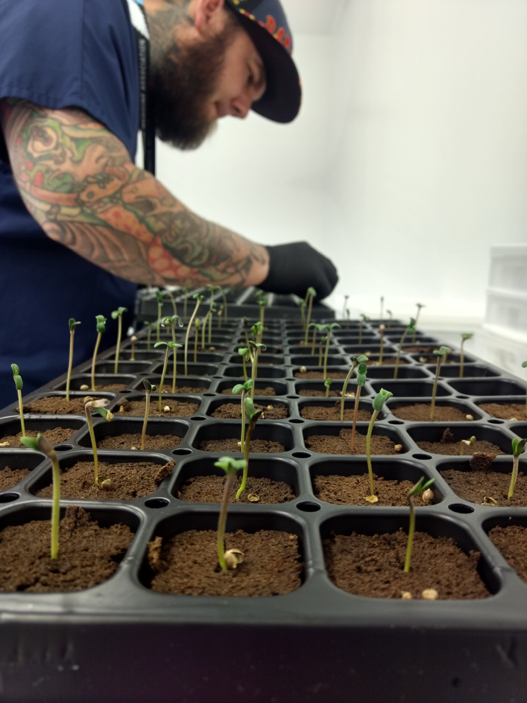 Who are your consumers? There is a big market for premium flower and products. The market in Las Vegas is made up of locals as well as tourists who are connoisseurs. Like good wine and spirits, there are consumers who want superior flower and are willing to pay a premium for it. "In Las Vegas, there is plenty of low tier product in the market and there is certainly a consumer for this tier. However, our strategy moving forward is to produce less per month but at a higher premium. We are focusing our strategy to fulfill the demand for mid-tier and high-tier flower and products that are currently missing in the market. We will also have DNA Genetics and Jack Herer products ready to be added to our menu."
AMA's technologically sophisticated facility spans 67,000 sq. ft. The one-of-a-kind, purpose-built facility was integrated with the latest technology to increase yields, bolster plant health to cultivate high-quality craft cannabis at scale with assured consistency and efficiency.
The advantages of growing indoors is to control the environment. The structure includes a sophisticated, fully automated irrigation and fertigation system (delivering precise concentrations and ratios of nutrients to each plant), a system of small vegetation/cultivation rooms for better crop management, and climate-controlled rooms to cater to each phase of plant production. In addition, a benching system maximizes growing space. In order to verify that the plants are receiving exact amounts of nutrients and moisture content, the facility was outfitted with drip automation in order to standardize cultivation techniques and implement efficient watering and feeding systems with waste reduction in mind. This takes cultivation to a new level of refinement.